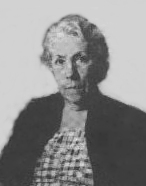 Monserrate Ferrer Otero
Para versión en Español oprima AQUI
Monserrate Ferrer Otero stands alone as the sole woman among the better known danza composers. Better known as Monsita Ferre, she was born in San Juan in 1885, she is the aunt of the internationally known actor José Ferrer. Ferrer studied piano and voice under the direction of Rosa Sicardó and Ana Otero, then studied composition with composer Julio Arteaga. Some years later, she completed her formal studies with counterpoint and fugues under composer Arístides Chavier. She implemented what the great Puerto Rican danza composer, Juan Morel Campos, had suggested for clearer musical notation in danza compositions. This was a great advance forward and lead to more understandable sheet music that was easier to interpret and perform. The beloved composer died in 1966. In the whole group of better known composers only one woman stands alone: Monserrate Ferrer Otero, better known as Monsita Ferrer. She was born in San Juan, Puerto Rico in 1885. From her father's side she inherited the intelectual interest; and from her mother's the musical. Together, they produced this exquisite sensible flower. (Yet a third generation of her family inherited the artist ability, as Monsita was the aunt of international renown actor José Ferrer).
She studied music reading and piano technique under the direction of teachers Rosa Sicardó and Ana Otero. Later on she studied harmony and composition with composer Julio Arteaga. Much later she studied counterpoint and fugue with composer Arístides Chavier.
She noticed quite early and implemented something that was also noticed (but not implemented) by Morel Campos : that danza writing should be done clearer so that it could be performed correctly, by eliminating the elastic triplet - a convention that allowed the performer a quite ample license to interpret triplets, making some of the notes longer.
She became well aware of the musical possibilities of the danza, to shine musically independently from the dance room. With that in mind she composed one of the best danzas of the XX century: "Ensueño de Gloria", composed in 1913 and awarded a prize by the Writers and Artists Society of Ponce. Some other of her compositions are: String Quartet, 10 Variations for the Piano over a theme by Arístides Chavir and the song Amanecer (Sunrise) based on a poem by Luis Llorens Torres. Other of her danzas are tittled: "Divagación" and "Recuerdos del Pasado" the former one published as sheet music by the Institute of Puerto Rican Culture in 1963.
This famous composer passed away in 1966.
* * * * *